NEW Mudflat Mysteries Educational Activity Book
The NZ Marine Studies Centre has just released a NEW activity book. Mudflat Mysteries is an educational activity book that features the animals and plants found between the tides on New Zealand's muddy shores and shallow coastal waters.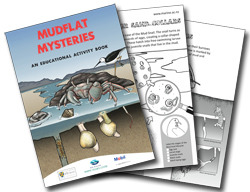 The illustrations show where the animals live and what signs can be seen on the shore that give clues to what lives beneath the surface.
The book gives indications of diet, feeding strategies and ways of avoiding predators.
The new Mudflat Mysteries Educational Activity Book links well with other free Seashore Resources including Northern and Southern New Zealand Shore Guides.
Copies of the book can be ordered from the NZ Marine Studies Centre and is also available as a PDF file. The PDF file and the order form can be downloaded from the Resources section of this website.